The name alone elicits a sense of exotic intrigue. And with a tagline of "South east Asia's youngest capital city", Kuala Lumpur is quickly transforming from "flight stopover" to holiday hotspot in its own right.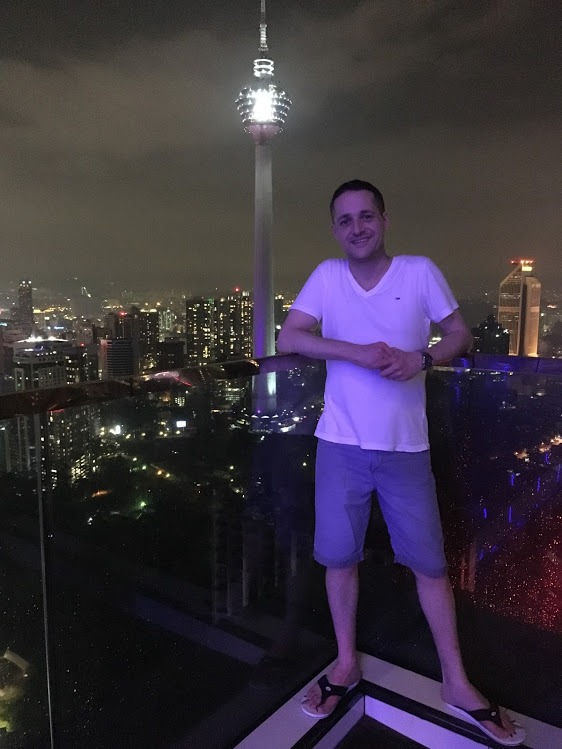 Situated in Malaysia's south-west, the city is going through big changes in its landscape and its image. Visitors will witness countless mega-cranes and building projects, with soaring skyscrapers and monorails sitting alongside temples, colonial architecture and lush jungle foliage.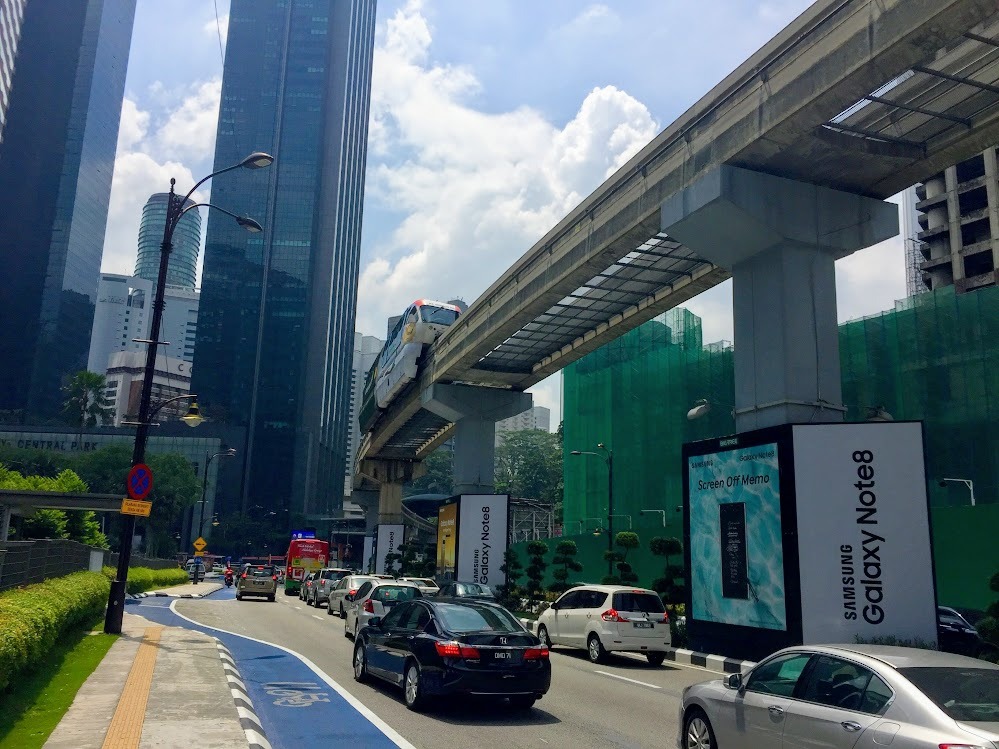 KL is quirky, compact, multicultural and strangely beautiful, and its "history-meets-technology" vibes will have you thinking of old sci-fi movies that didn't get all their futuristic predictions completely spot on.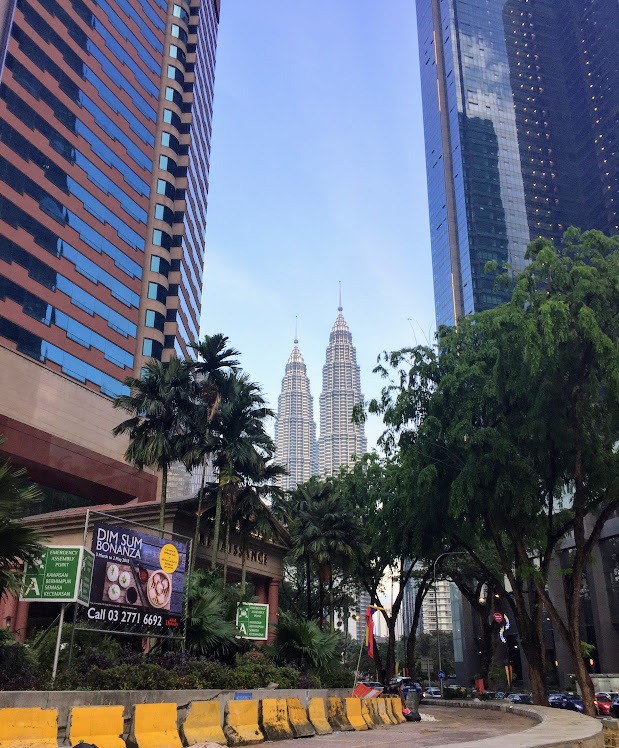 I visited Kuala Lumpur in early spring when temperatures were around 25 to 33℃ with sporadic short-lived muggy, heavy and drenching downpours each day.
Read my recommendations below for great stuff to do during 48 hours in the city.
Before you go
Booking accommodation
I was gobsmacked by the fantastic value of accommodation in Kuala Lumpur. Not only was there masses of choice, but nearly everything was unbelievably cheap – and stunning!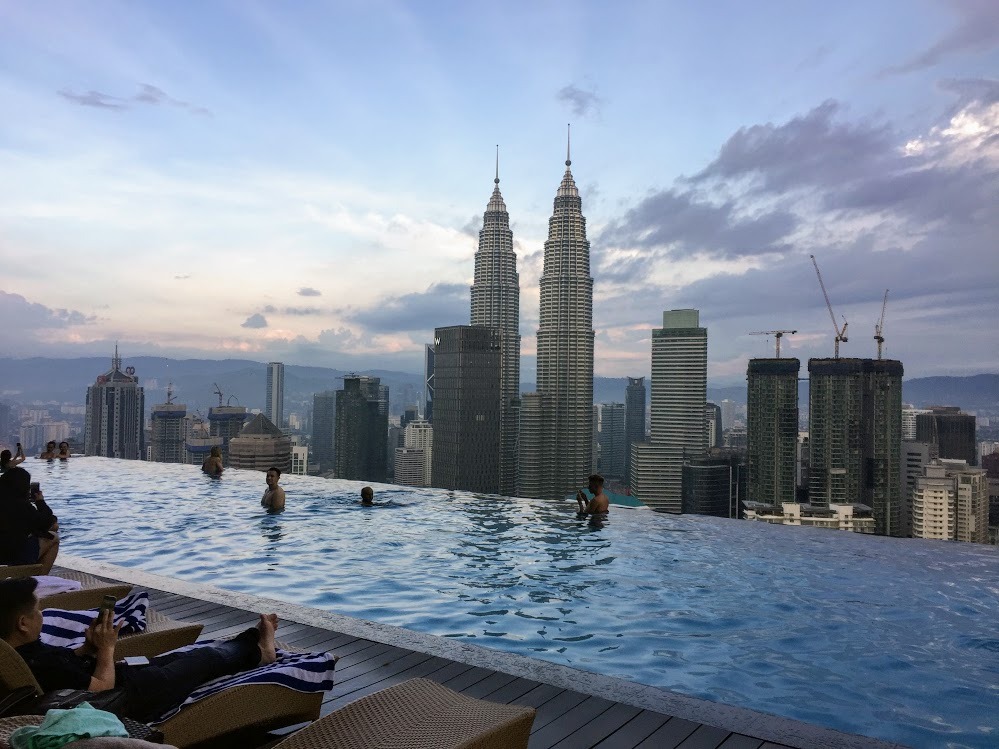 I looked at hotels briefly, but ended up choosing an Airbnb apartment in a modern tower block in Kampung Baru, around 15 minutes' walk from the Petronas Towers. It was one of the nicest and most spacious Airbnb apartments I've stayed in, with floor to ceiling windows offering far-reaching city views, much-needed air-conditioning, and a rooftop infinity pool – all for £32 a night!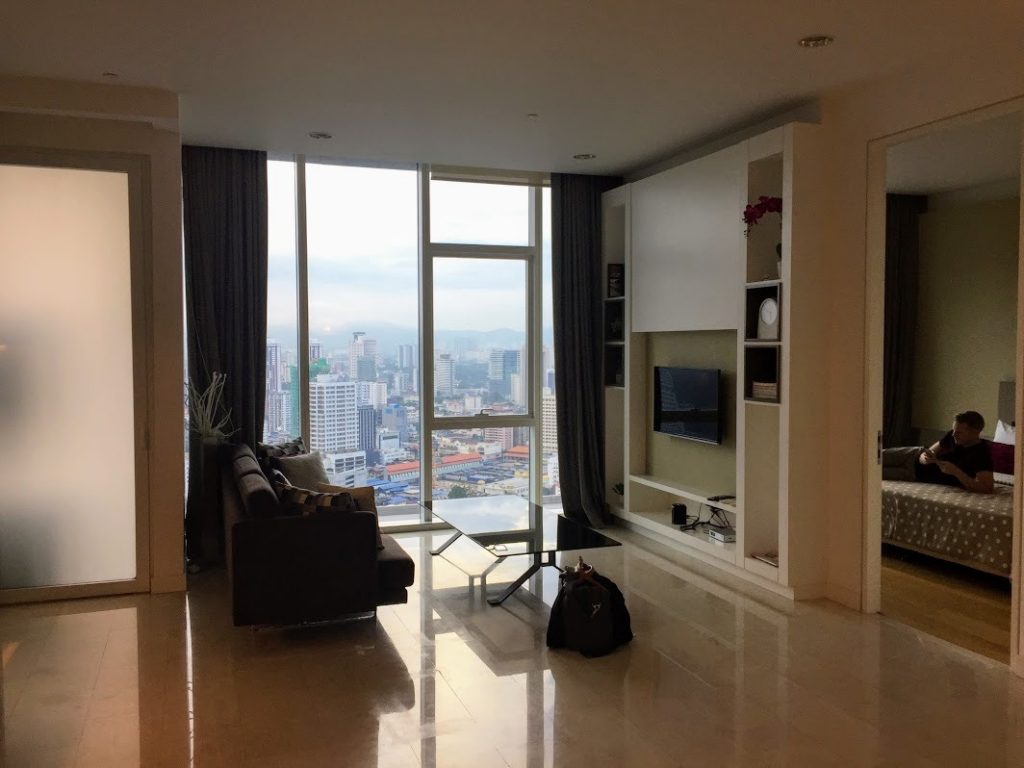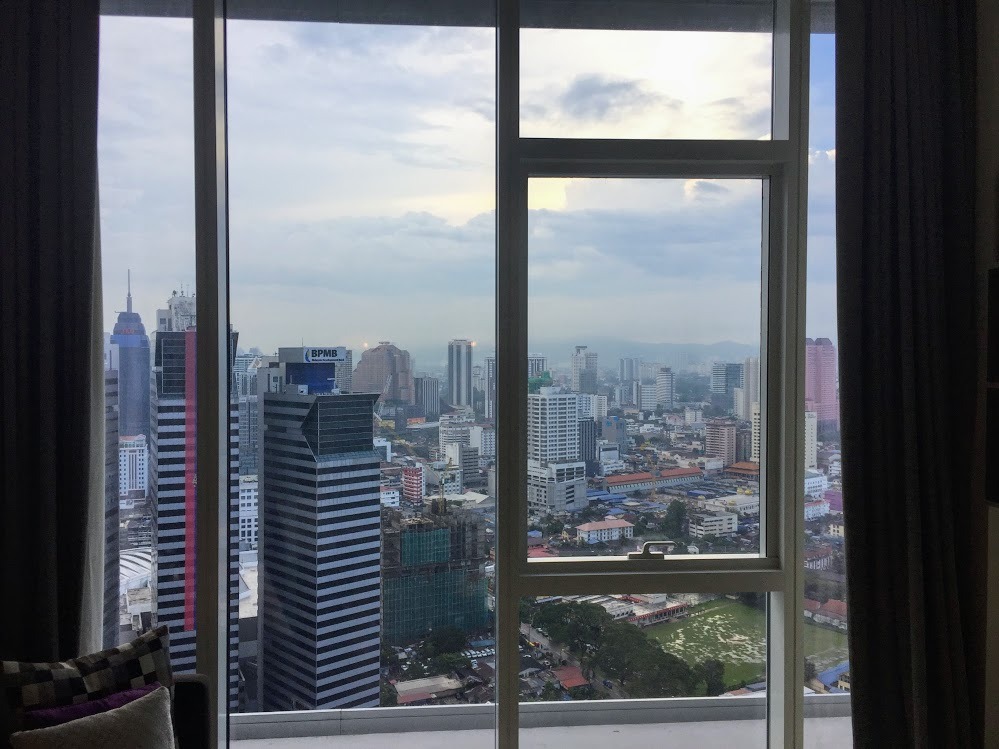 Be sure to do a bit of research to find somewhere nice to stay – you can get some exceptionally luxurious, affordable places in the city that will undoubtedly enhance your trip.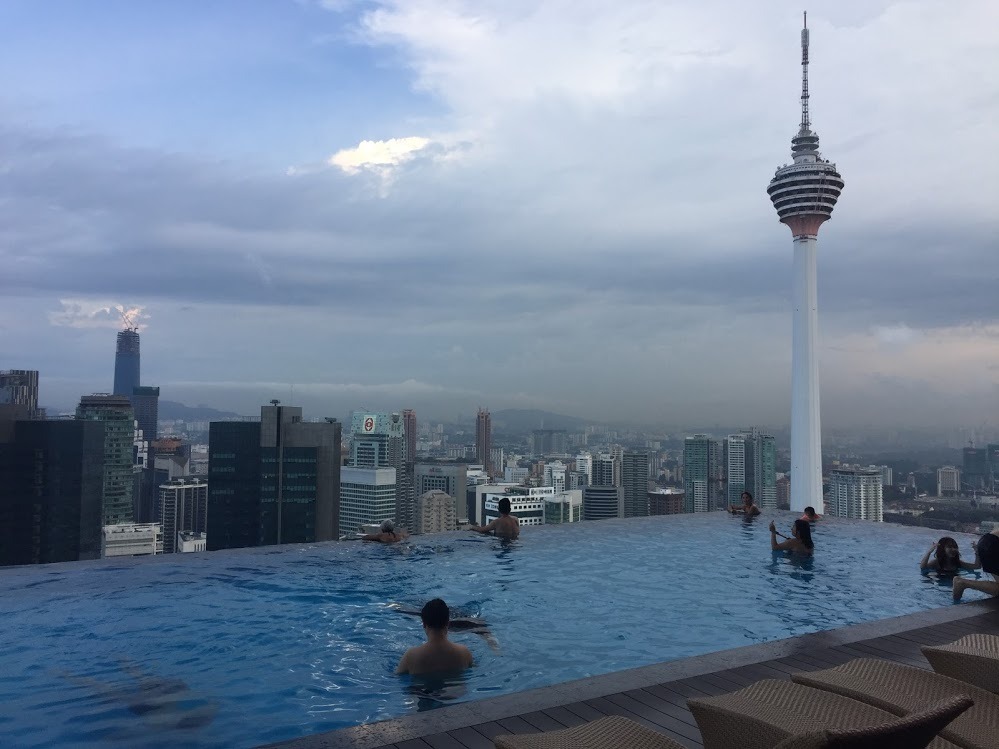 24 hours…
Wander
Surprisingly compact, it's often quicker to walk to places in Kuala Lumpur than to use public transport or take a cab. It's something I'd recommend for a first day in most cities anyway, just to get your bearings and a feel for the place – but wandering around here is a particular joy.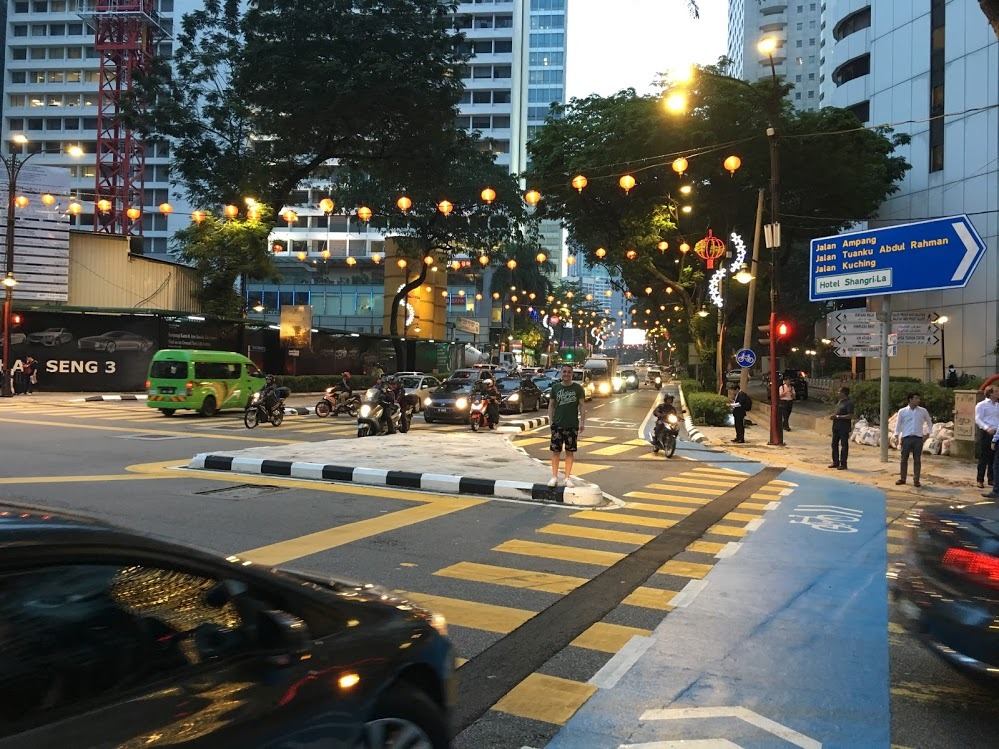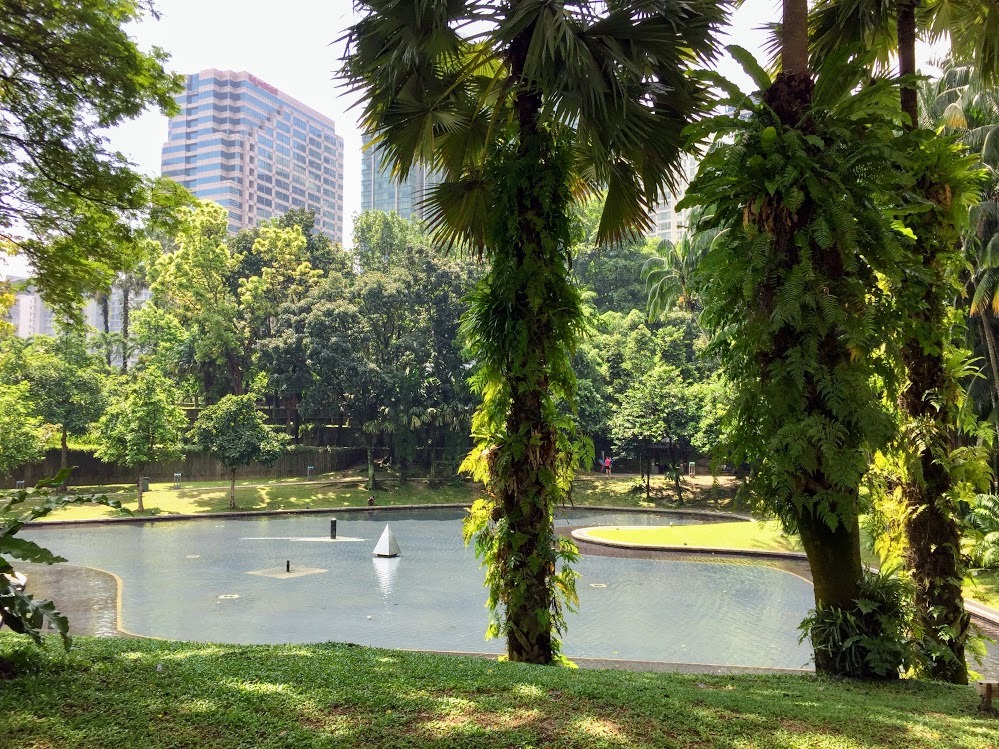 The sights, sounds, smells and climate of this city are all unique to south east Asia. It truly feels as though the jungle canopy is hovering somewhere above your head, having its own battles with the encroaching city. There's a sad irony that only 200 years ago the area was completely jungle-covered, but you can definitely still feel its presence.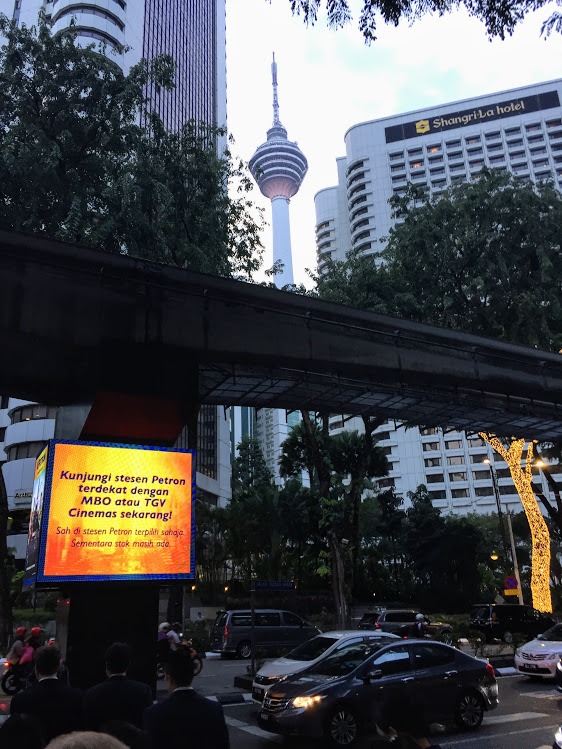 Chinatown and Masjid India
Colourful, exotic and relentlessly busy, these areas dominate KL with their own unique sights, smells and experiences. It's worth taking in their vibrant, exotic markets and people-watching for a while over a bowl of noodles in Chinatown, or soaking up the culture in Little India's Bazaar.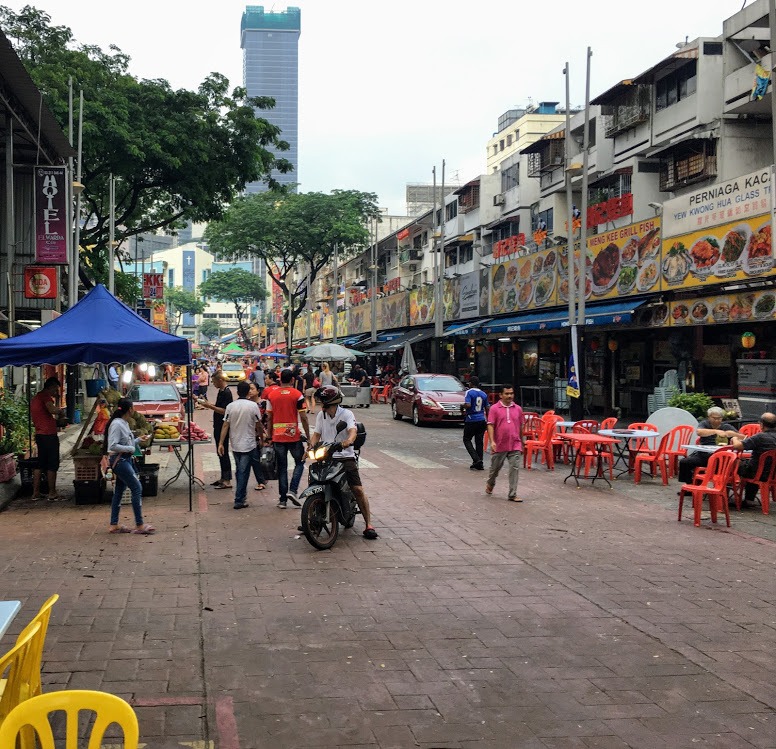 One unmistakeable smell as you wander around is that of jackfruit and durian – the ripe fruits smell cloyingly sweet or, to put it more bluntly, like vomit. A regular nasal occurrence in KL, these fruits are grown in abundance and sold from street market vendors all over the city.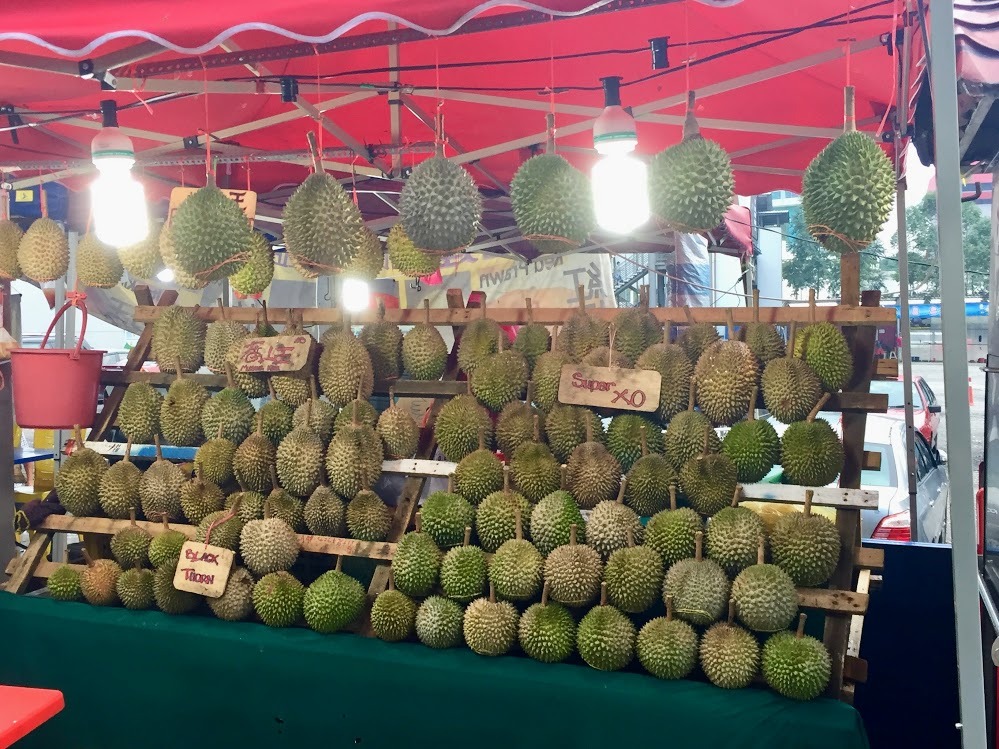 Tip: I did wander off the beaten track and felt a little unsafe for a while in the maze-like streets and commotion of Masjid India, so I'd recommend staying alert and keeping track of where you are.
Tower views
There's nothing like seeing a city from up high to get to know it properly.
A day of aimless wandering in Kuala Lumpur will inevitably lead you to its gleaming, high-rise city centre and the world-famous Petronas Towers which dominate the skyline. Built in 1998, they retain a futuristic metropolis feel; the shimmering, stainless-steel structures perfectly sum up the strive for cutting edge modernity that's taking place in the city.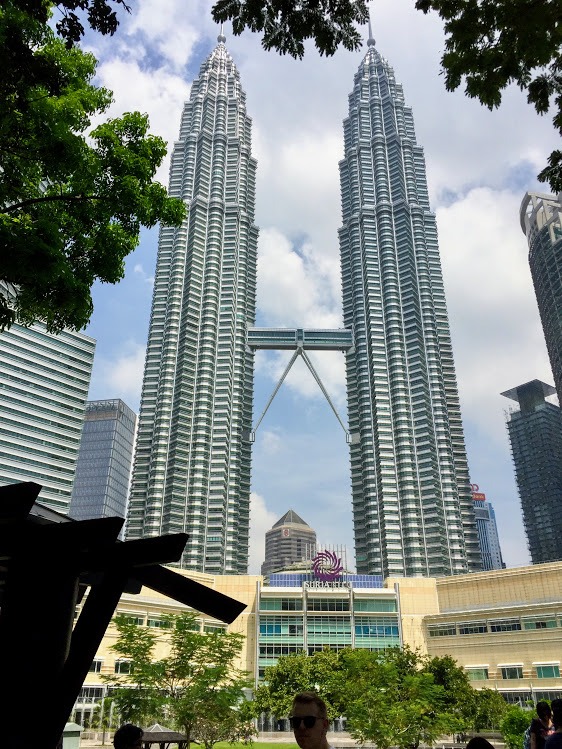 Visitors can pay for guided tours of the towers, taking in the Skybridge on the 41st floor and the observation deck on the 86th floor. There are limited tickets each day so it's strongly advised to book online beforehand or get there early on the day you visit. (Price around £15pp to go up). Make sure to check out the towers in the evening too – they look especially impressive when they're illuminated against the night sky and city backdrop.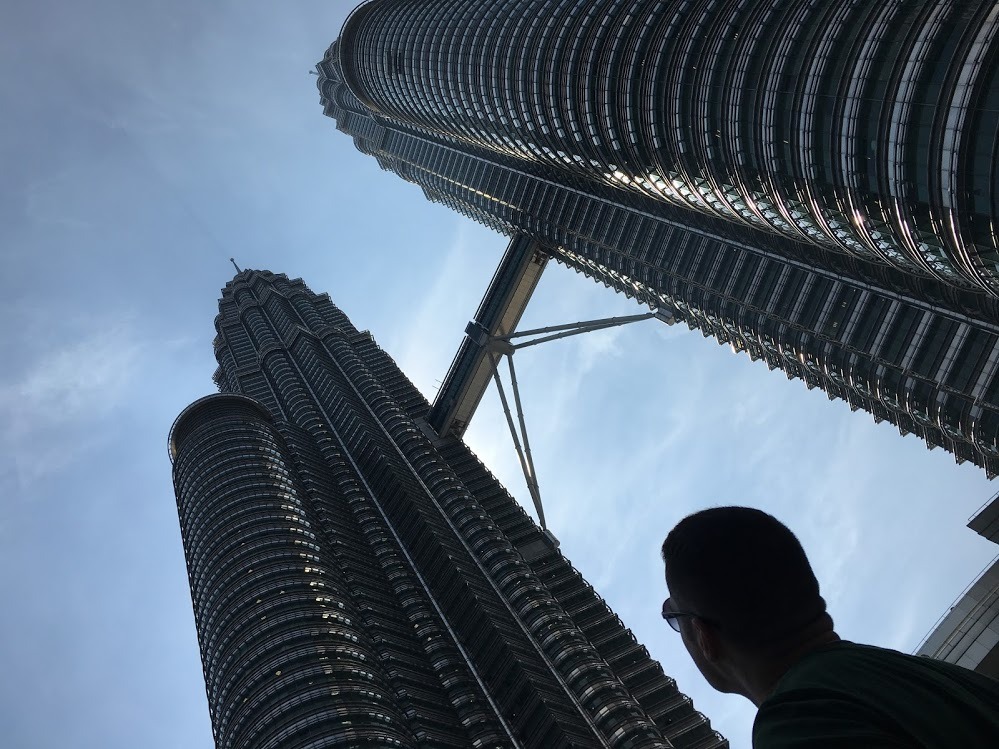 Because I've done this kind of thing so often before, and because it's not a city I'd especially recognise from up high I didn't go up the towers, deciding to see more of the city at ground level instead. Maybe next time…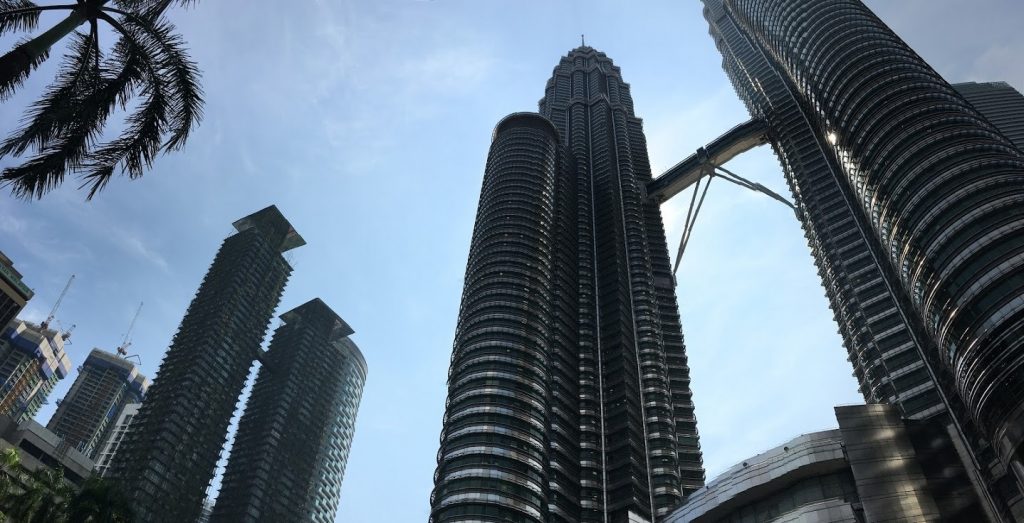 KLCC (Kuala Lumpur City Centre) is an interesting place to spend a little time. With its huge upmarket shopping malls, luxury hotels, rooftop bars and futuristic green spaces, it's interesting to witness the mammoth planning, development and requirements of a modern city.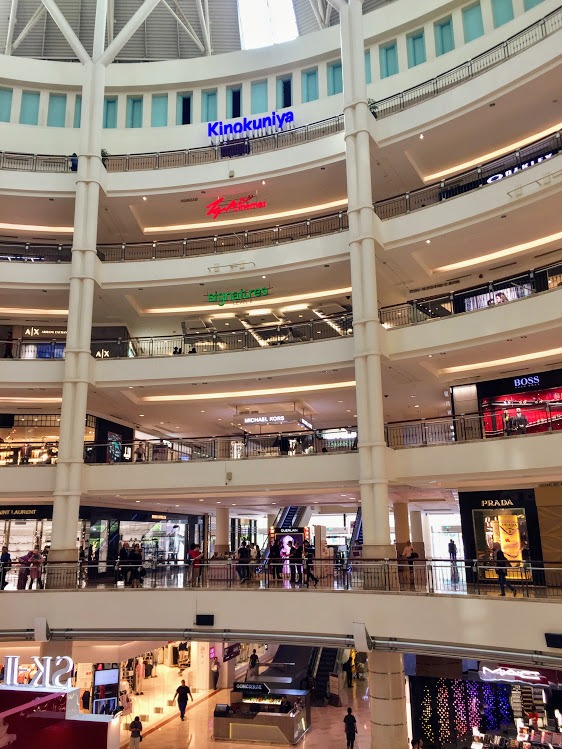 Menara Kuala Lumpur is the other famous tower in the city – smaller than Petronas but apparently offering better views – it's surrounded by a small area of rainforest and is the world's fourth-largest telecoms tower. You can pay to visit its observation deck, open deck and revolving restaurant, and the tower can be reached through the Forest Eco Park surrounding it. (Cost: around £9.15pp for observation deck only. About the same again for open deck).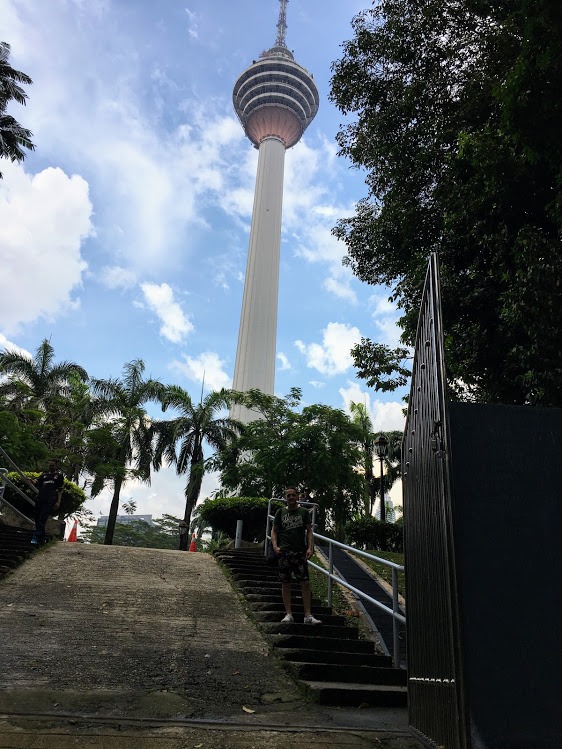 Temples
They're free to enter and you'll encounter them throughout the city. But if you go in any be sure to respect the local traditions and guidelines which will often include things like shoulders and legs being covered, no hats, and no shoes.
I especially liked the hubbub of Hindu Sri Mahamariamman Temple, the oldest and richest in Malaysia. It was a real feast for the senses.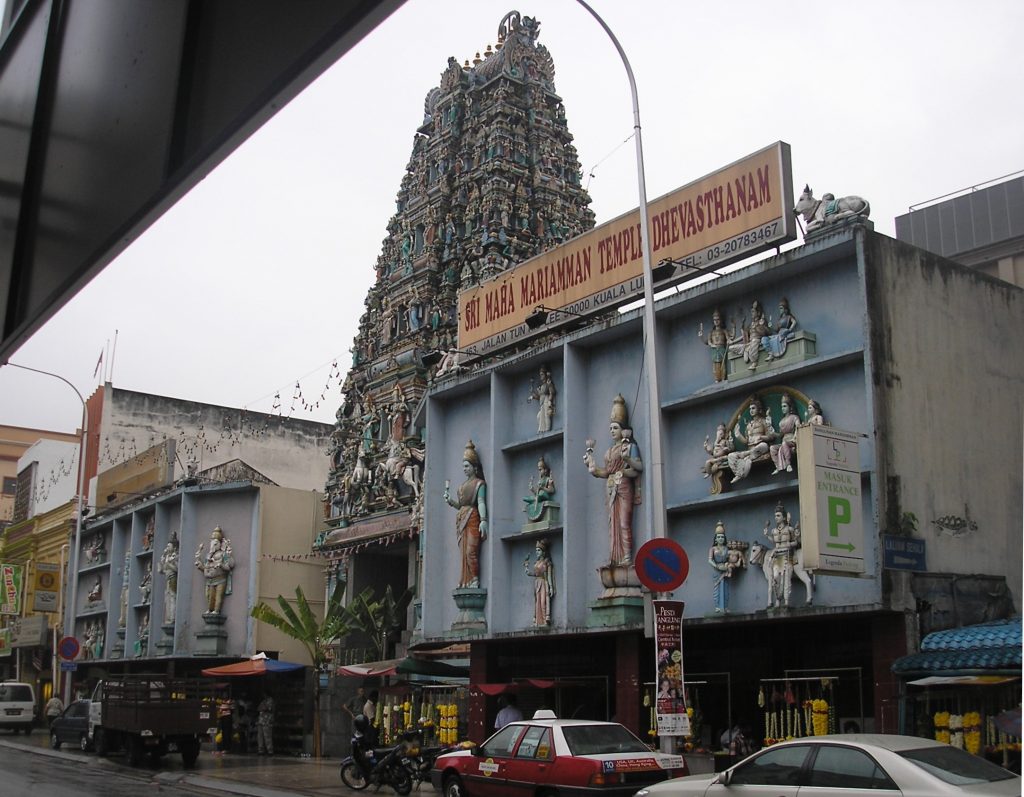 Sin Sze Si Ya – the city's oldest Chinese temple is beautifully decorated and well worth a visit. And although I didn't get to see it, the large, six-tiered Thean Hou Temple looks visually stunning – but will probably need a taxi or long walk to get there.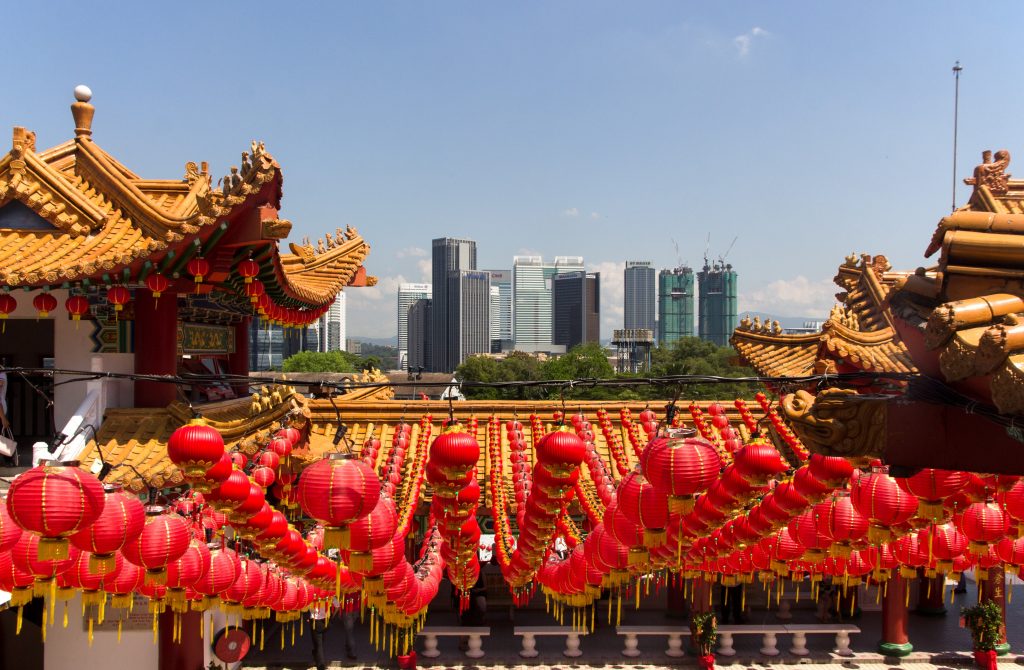 Dinner
There's almost too much food choice in Kuala Lumpur. Representing all the various regions and cultures, options range from eating with the locals over hawker and street food, to more upmarket restaurants – although none are likely to cost a huge amount.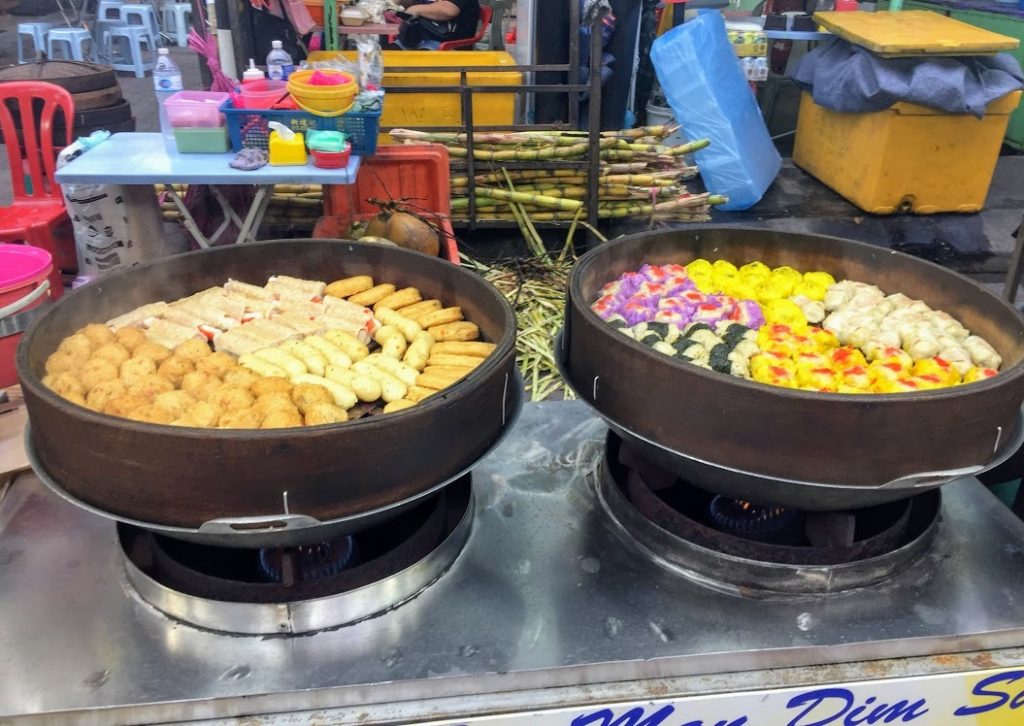 Many travellers might raise their eyebrows at my suggestion but I absolutely loved – and still sometimes daydream about – my first night meal in Changkat Bukit Bintang – which is kind of a party street for tourists and locals – full of bars, clubs and restaurants.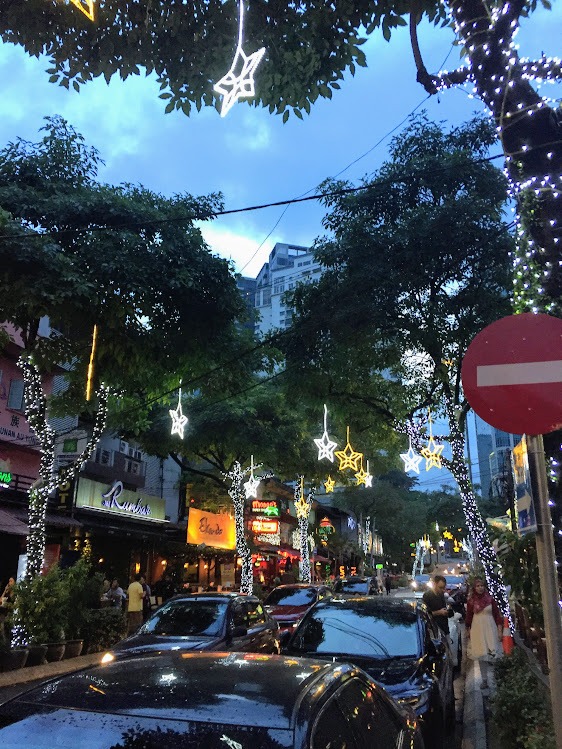 The restaurant is called Opium (styled on an Oriental opium den). With a green neon sign outside bearing their slogan "Eat. Drink. Man. Woman" – it was the exact introduction to the city that a jet-lagged, fun-seeking, yet mildly cautious person (me) needed at the end of a first afternoon of exploring. There's no better way of knowing you've arrived somewhere unique than sitting under twinkling lights, drinking from a bowl of beer and listening to a friendly cimbalom-playing (stringed instrument) Malaysian lady singing English pop songs in the corner. The food arrived in countless little pots and bowls, with plum sweets at the end; we firstly had to work out how to eat most of it – but it was delicious and the ambiance was amazing! (Meal + drinks total about £24)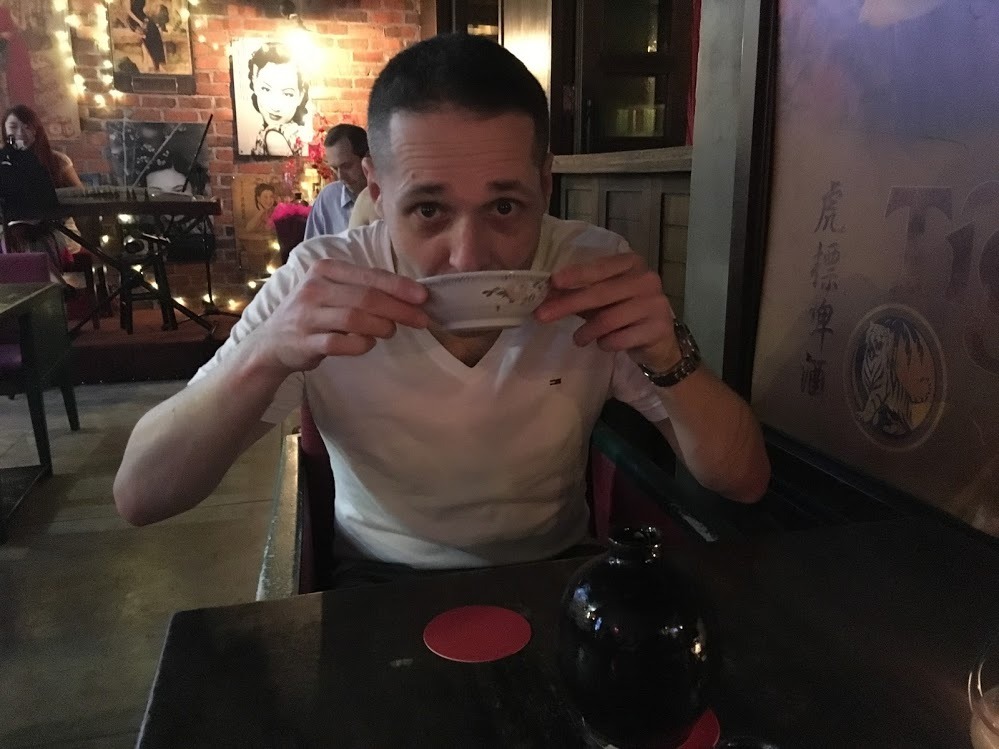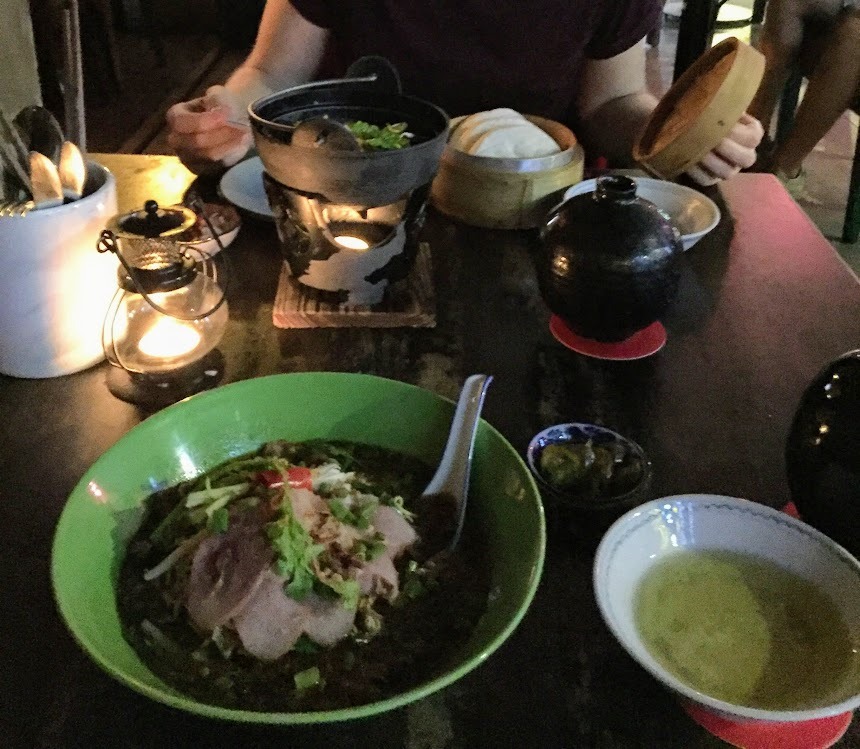 48 hours…
Breakfast
If you're not staying at a hotel, what better way than to start the day with coconut iced tea and baked eggs – yes, they were a new one on me too – at GravyBaby in Bukit Bintang (or one of their three other stores in Kuala Lumpur)? Hardly traditional Malaysian fayre, but Malaysians don't make a big thing of breakfast, and it was still different to the norm. The baked eggs were also tasty enough for me to try making my own version when I got home!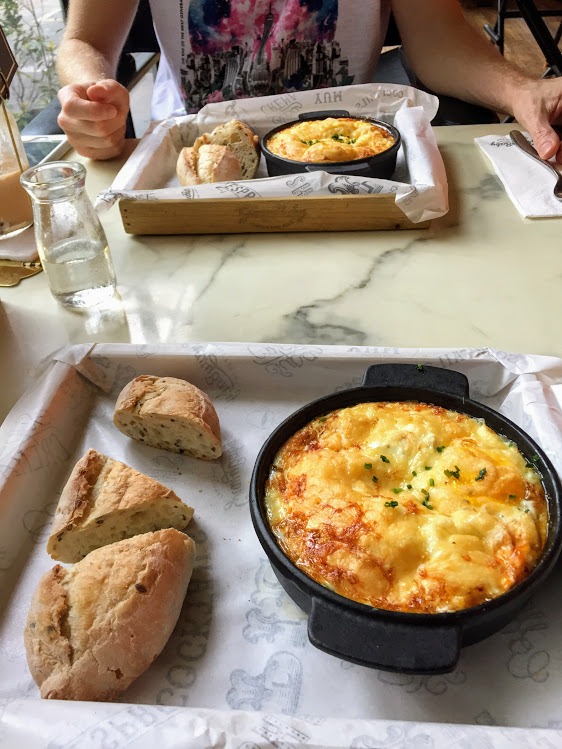 At the time of writing, GravyBaby is exclusive to Malaysia. But they'll soon be adding to their five Malaysian sites with restaurants in China, London and Cornwall too.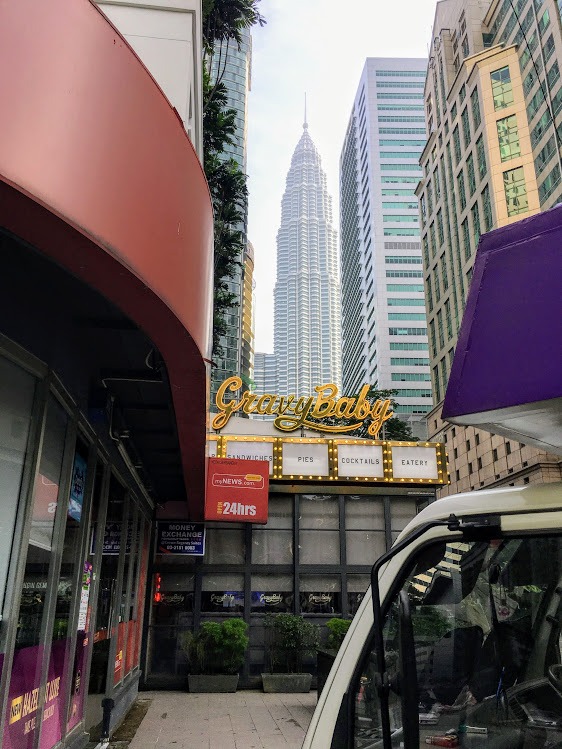 Head into the rainforest
You could fit this in on day one if you've got time – and one of the trails leads nicely into Little India. But otherwise I'd recommend spending longer enjoying the uniqueness of the rainforest area.
The Kuala Lumpur Forest Eco Park is 9.37 hectares of the oldest protected jungle in Malaysia. In the heart of the city, it's the last remaining rainforest in KL, and it's free. Even though it's relatively small and there's a sadness about the rest of the rainforest having long-disappeared, it's definitely worth the long, winding uphill walk to visit it.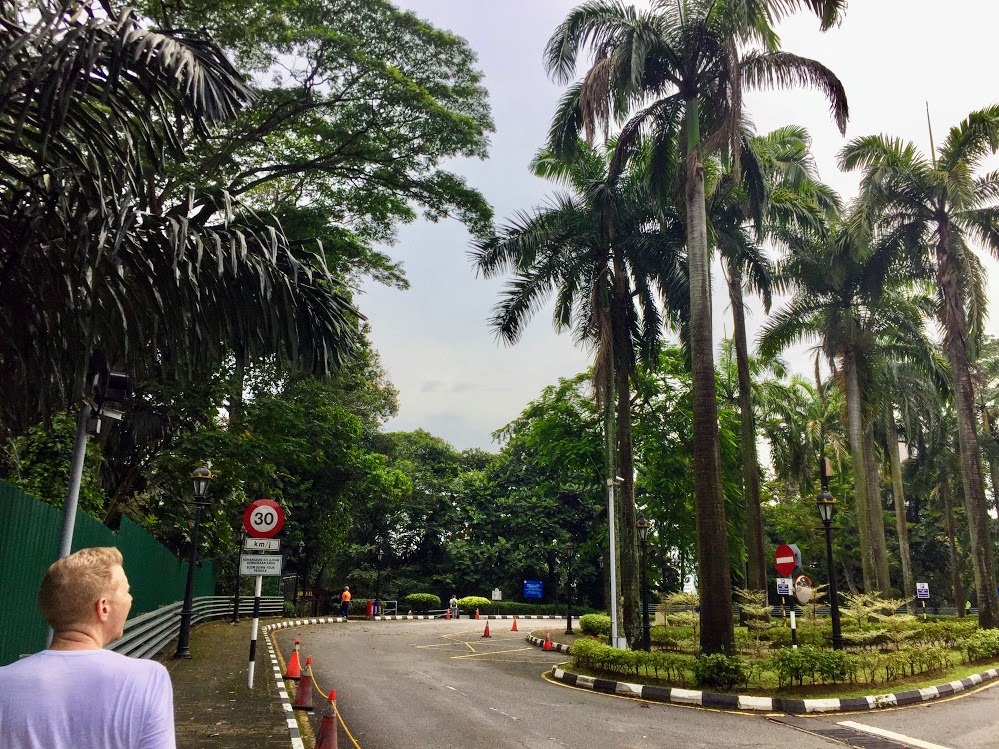 Following the recently-constructed canopy walkway is a fun experience which allows you to take it in from a monkey's viewpoint. You can pick up a trail map from the information centre at the start, and keep an eye out for the incredible plants and flowers along the way – including some impressive banana trees. Don't forget to take some water and put on plenty of insect repellent!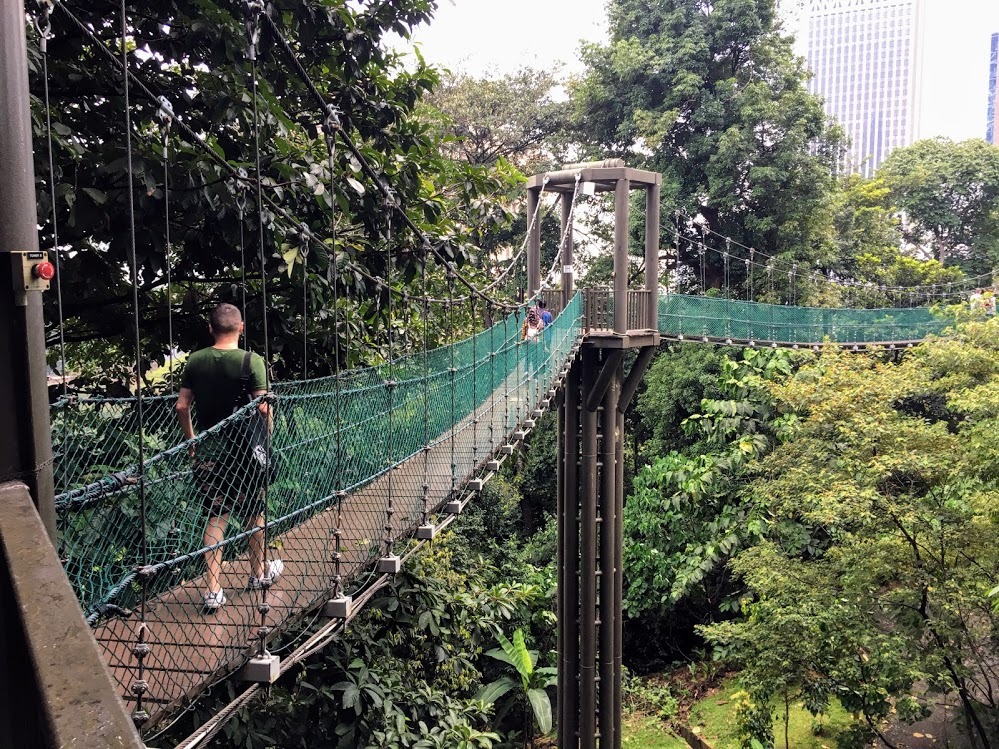 Batu Caves
A great option after breakfast on day two is to head to the Batu Caves early and beat the day's big crowds. They're open from 8am to 9pm and it's a 30 minute train ride from KL Sentral (cost 50p!) or 22 minute Uber ride (you can't walk it from KL).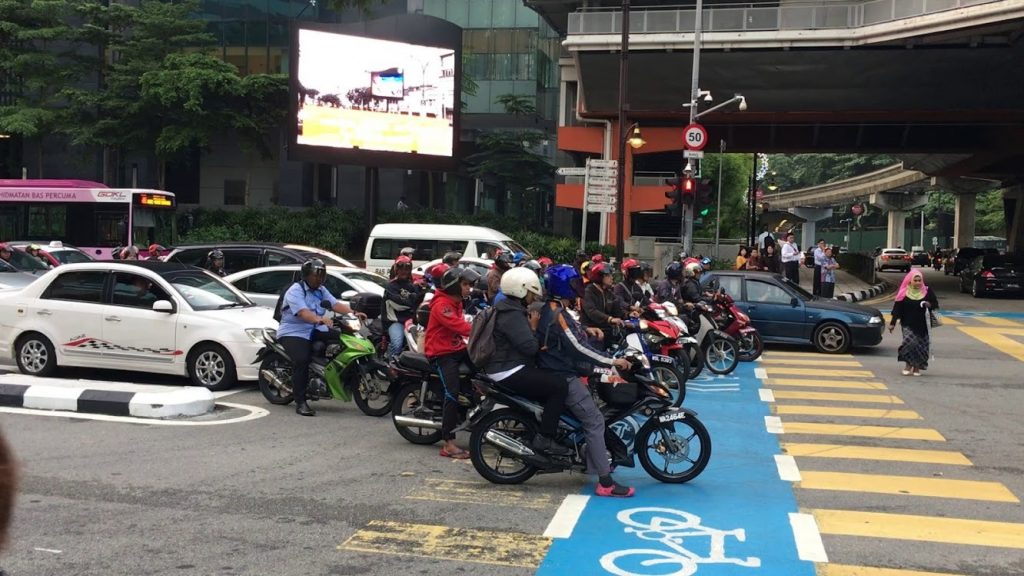 Top tip: Ubers in Kuala Lumpur are the quickest and most efficient and affordable way of getting around – the journey to the caves from Bukit Bintang cost about £3.20. We had a great driver who filled us in on a lot of the history of the city and the places we were passing.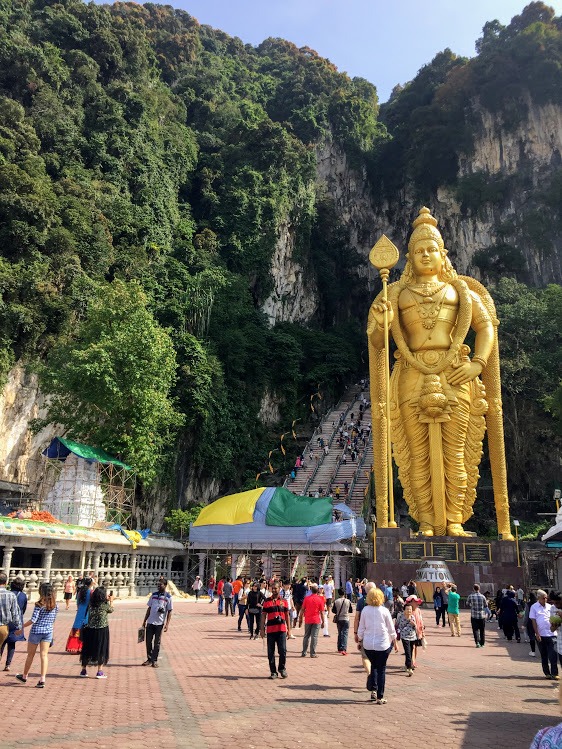 Many people will recognise the Batu Caves from images of the enormous (42.7m), spectacular golden statue of the deity Murugan (Hindu god of war) standing in front of a massive flight of 272 (now colourful) stone steps. The caves are one of Malaysia's holiest Hindu sites and have been declared a national treasure.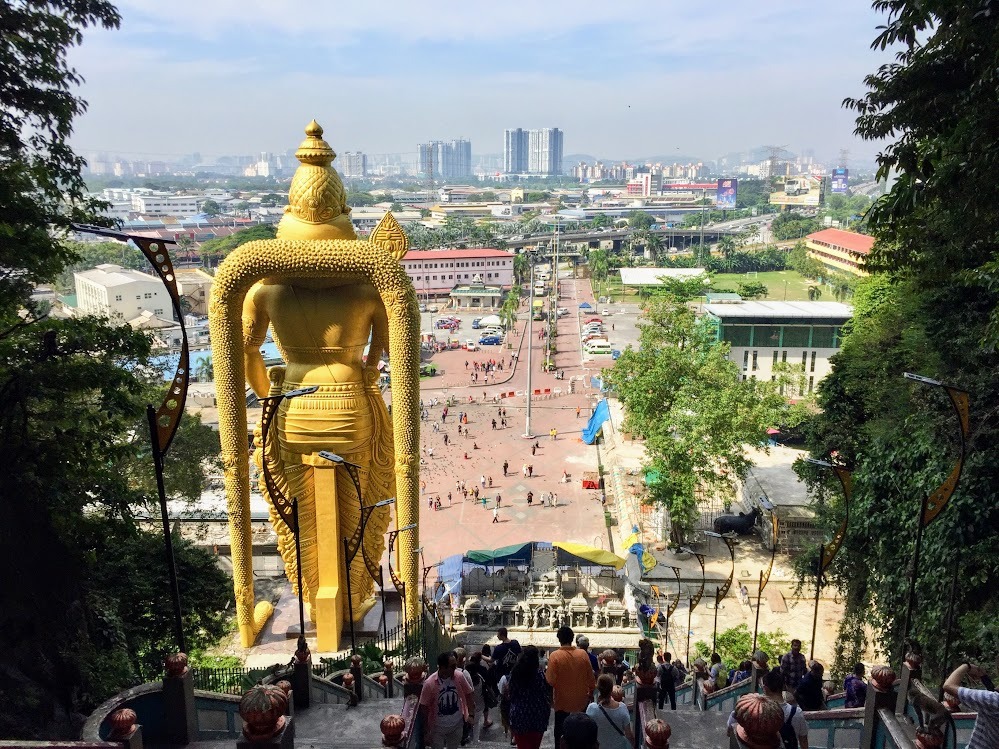 The caves themselves are impressive giant limestone caverns which have been visited by pilgrims for over 120 years. The main Temple Cave is free to enter and prayers are held here twice-daily – at 8.30am and 4pm. Ramayana Cave costs about £1 to get in, and Dark Cave – which branches off at step 204 on the way up to Temple Cave – can only be visited as part of a 45-minute guided tour which takes you through seven different chambers and looks at the rock formations, historical significance, and creatures which inhabit the caves – including bats and trapdoor spiders! Tours of Dark Cave run every 20 minutes and cost about £6.50 for adults and £4.70 for a child.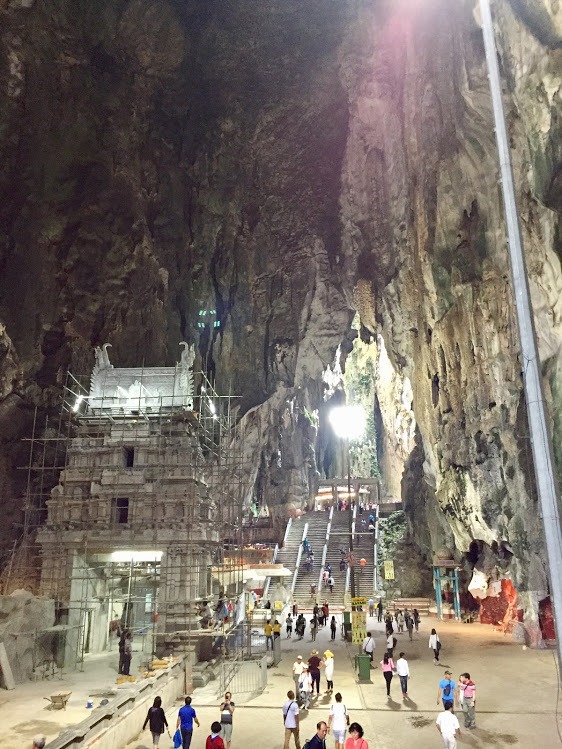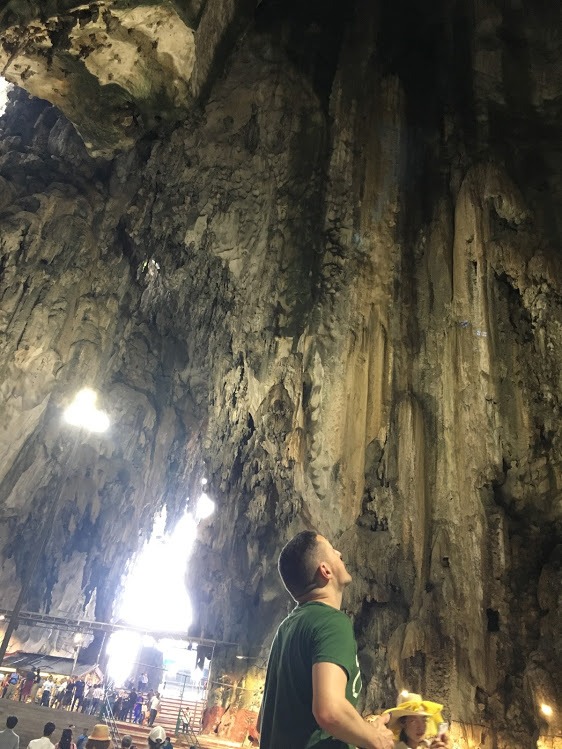 If you've got more than 24 hours in Kuala Lumpur, visiting the caves is a must. They can get busy and it's quite a climb, but the cultural and religious significance of them is worth the trip. Even if you're not feeling the significance yourself, you'll get some fantastic photos of the intimidating statue and see countless cheeky monkeys all around on your way up the stairs and into the caves.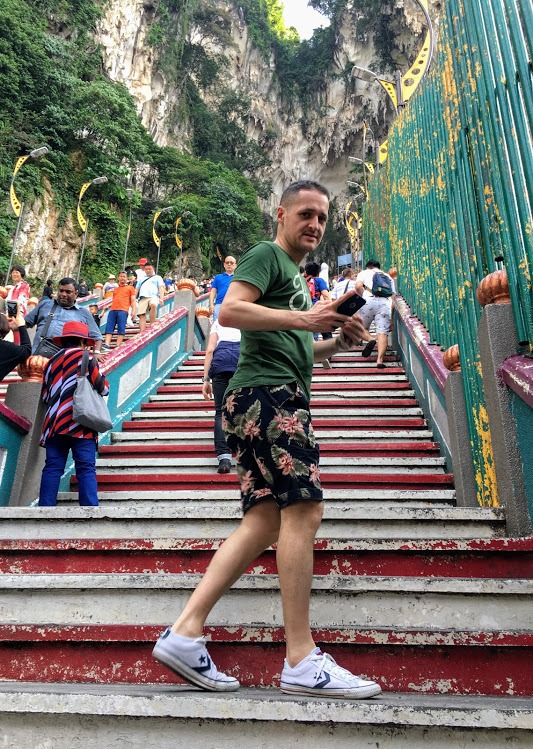 Tip: make sure all your belongings are tucked away and you've got a firm grasp on anything valuable because the monkeys will try to take stuff given half a chance. I witnessed one monkey on a banister reaching into a tourist's backpack which was on his back and take any possessions it could grab hold of! Even if you're quick enough to snatch your items back, it's not recommended for fear of angering the monkey into biting you.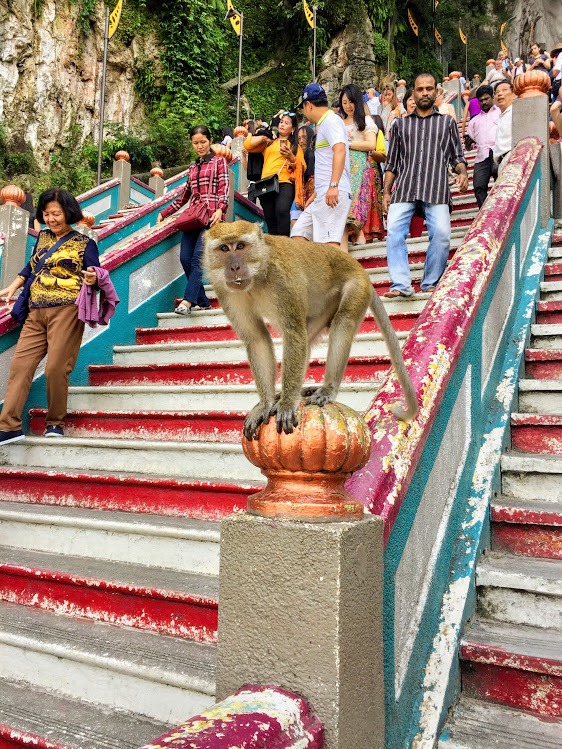 Other things to do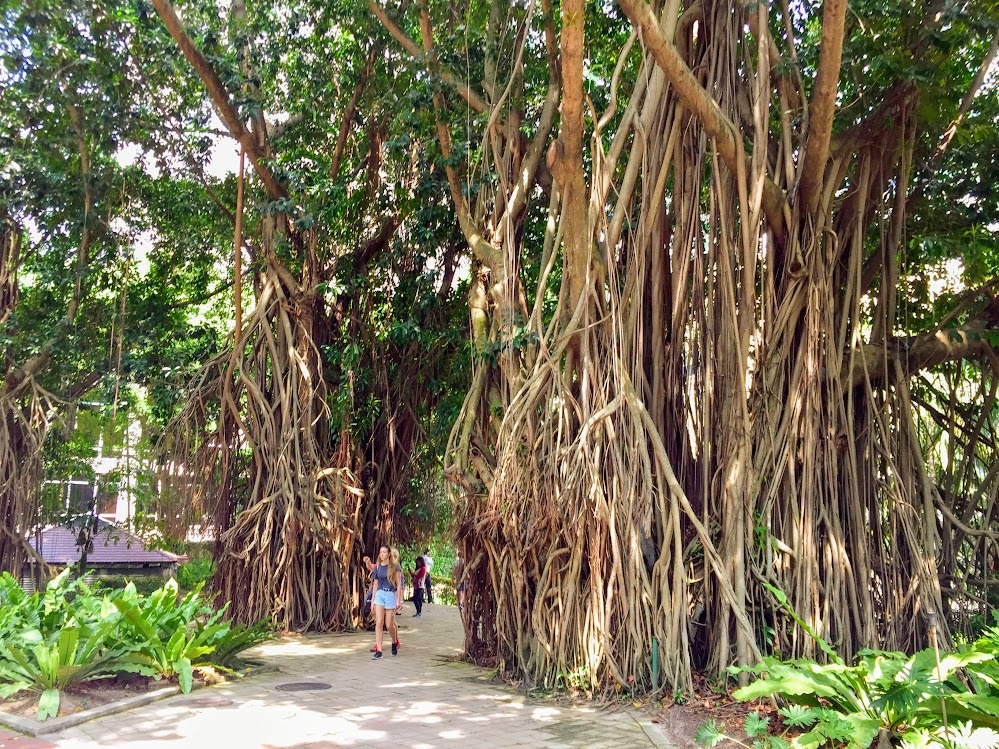 There are loads of other options for things you can do and see in Kuala Lumpur if you have time:
KLCC Park where you can get the best view in the city of the Petronas Towers and watch the Lake Symphony's dancing fountains play each night at 8, 9 and 10pm
KL Bird Park (open 9am to 6pm) – a 21-hectare aviary which houses roughly 3000 birds of over 200 weird and wonderful species. In the most impressive sections birds fly freely under an enormous canopy. Cost: around £9.30 adults / £7.65 children
Old Kuala Lumpur Railway Station – this colonial building from 1910 was listed as one of the 26 most beautiful train stations in the world by Architectural Digest
KL Butterfly Park (open 9am to 6pm) – "the largest enclosed butterfly garden in the world", you can experience the strange sensation of more than 100 butterfly species fluttering around you – and visit the daunting bug gallery to see some of Malaysia's gigantic bugs and arachnids. Cost: around £3.75 adults / £1.90 children
Perdana Botanical Garden (open 7am to 8pm / Free entry) – Kuala Lumpur's oldest public park, filled with a huge array of native and non-native plants in various sections. It's really pretty and well-designed but lacking a lot of basic information. There are free guided walks on Sundays at 8am and 10am
Merdeka Square – a large and pretty open space where the Malaysians declared independence in 1957. Surrounded by some magnificent buildings, the square was used as a cricket pitch in the British era.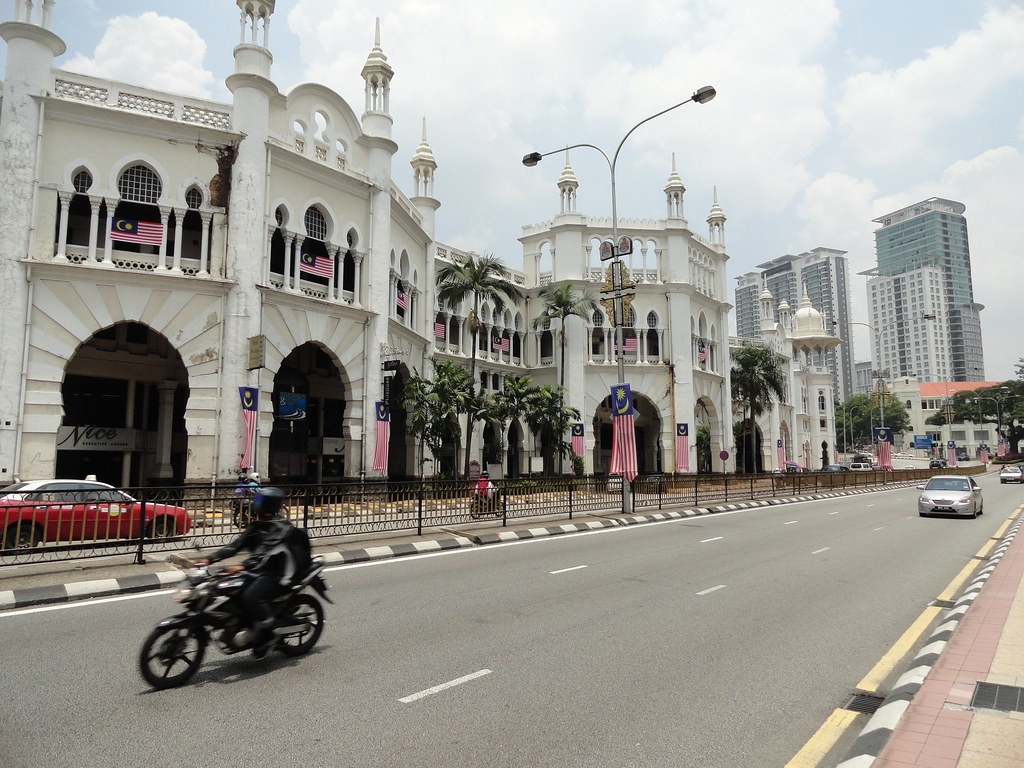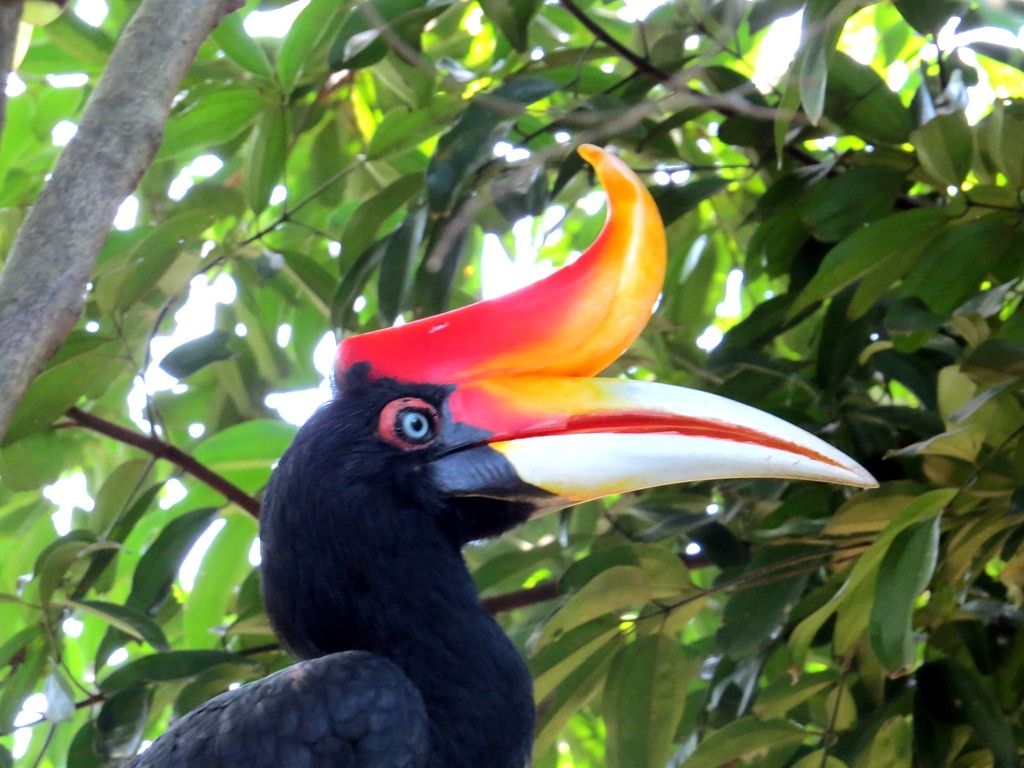 It's a jam-packed 48 hours and ideally I'd recommend staying in Kuala Lumpur for at least three or four nights if possible. That way you'll get to make the most of it and fit everything in with some down time too. But however long you're there, accommodation and the cost of living are affordable enough to have a great time in the city without overly worrying about the budget.