Iceland's impressive, luminous Blue Lagoon is one of the country's top tourist attractions and features on countless bucket lists. But for many who get to visit, it becomes one of those decisive "loved it or hated it" places. I've been contemplating it's "Marmite effect" on the public.
(For the record, I loved it.)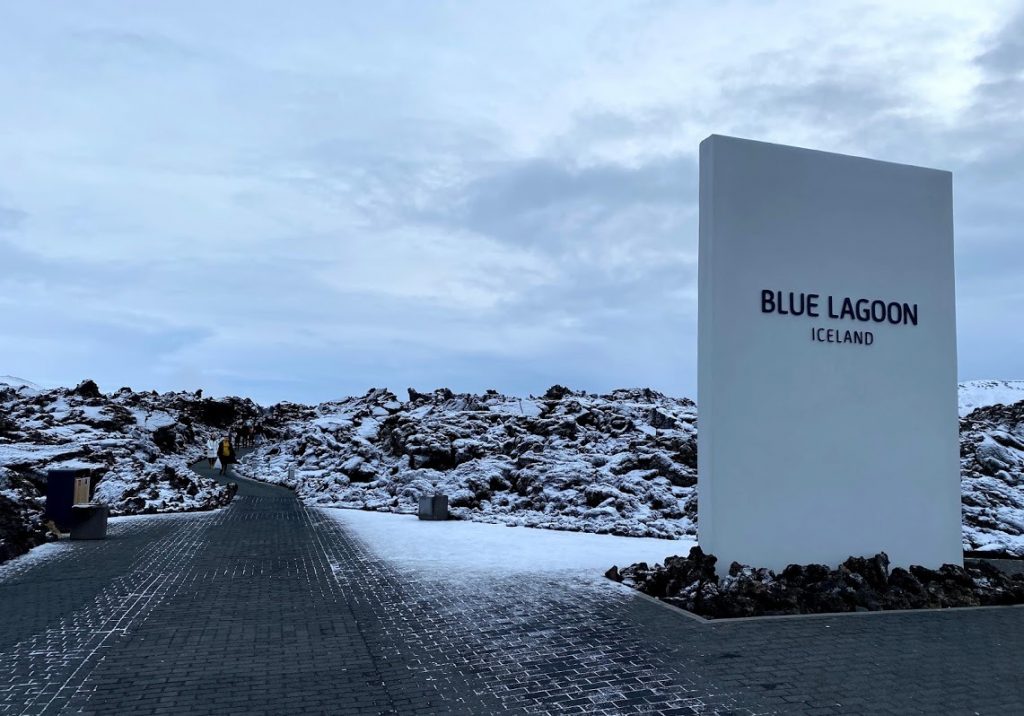 What is the Blue Lagoon?
It's a geothermal spa made up of 70% sea water and 30% fresh water fed by the nearby futuristic Svartsengi geothermal plant. Water temperature is a blissful 38℃ making it feel warm regardless of the outside temperature – so long as you stay under.
The spa water is rich in blue-green algae which gives it its distinctive colour. And it contains plenty of mineral salts and fine silica mud which condition and exfoliate the skin at the same time. So by the time you get out everything feels really soft.
Where is it?
It's 47km southwest of Reykjavik – located between the airport and the capital. There's not much else around, and you have to go past it to get to Reykjavik easily. So I'd recommend doing it on your way to or from the airport to save on time and cost.
Within an hour and a half of landing in Iceland I was up to my neck in the warm spa waters, beer in hand, face caked in a mud mask. And it was an awesome introduction to the country, kicking off my trip with a bang.
How much is it and how much time can you spend there?
Like everything in Iceland, it's expensive. It's recommended to always pre-book online before you go (as well as your bus journeys to and from the lagoon.)
There are a few packages with differing prices. I opted for the most popular Comfort package which includes entry to the lagoon, mud mask, use of a towel, and a free drink which equated to around £70pp at the time. Having spent around three and a half hours there, it worked out about just under £20pp an hour which makes the cost sound slightly less traumatic.
Be wary of the initial advertised website prices which only apply to the very minimum entry fees during the most unsociable hours.
There are also Premium and Luxury packages with increasing extras. But to me, they don't seem to offer enough of a difference unless you're planning on spending the entire day there. After three hours in the water my skin was wrinkled and I'd done all I wanted to. I didn't feel as though I missed out on anything.
It's worth noting that the following things are included automatically:
Secure luggage storage – which is handy if you're visiting the lagoon on your way to or from the airport
Indoor changing room facilities and a locker
Unlimited showers, shower gel and conditioner – so you don't have to make sure you've got some on you
Taking your camera/phone into the lagoon – I'd definitely recommend taking a waterproof wallet or case to put it in though
One thing I liked about it is that there are no time limits so I didn't feel hurried and was able to fully relax and make the most of it.
Even though you have to pre-book a time slot for the lagoon (and the bus to it from the airport) these aren't strictly adhered to. As long as you're going there in the same day it doesn't matter if your flight gets delayed or you miss the bus – which was a relief after seeing the back of the bus I should've been on pulling away from the airport terminal!
What else is there?
There are a couple of restaurants, a rooftop viewpoint and the inevitable gift shop. And in the pool you can swim up to steam rooms, a sauna, a floating noodle station, bar, silica mask hut, hot waterfall and super-hot spots. There's also a massage area and a VIP section if you're willing to pay extra. Massages are either 30 or 60 minutes and need to be booked well in advance.
There's a bit of a walk to the lagoon from the car park/luggage drop area, perfect for building anticipation: you get to see glimpses of the milky-teal blue water on your way.
How does it work?
You queue up with your booking info handy and get given a plastic wristband which you have to leave on – this is the electronic key to your locker and you use it to get drinks and mud masks in the lagoon – it has to be scanned again when you leave. Make sure you do it up securely because if you lose it in the water you won't find it again.
Men and women go to separate communal changing rooms to get changed and shower – you have to shower before and after the lagoon experience. There's no such thing as complete privacy here because everyone's doing the same things at once. And it's recommended that everyone showers completely naked – for the men there are rows of showers with opaque windows and no locks, although I heard that the women only have communal showers. This is actually far less intimidating than it sounds – there were bodies of all shapes and sizes and no-one was paying much attention to anyone else.
Contrary to what you might read elsewhere you don't have to be naked in the lagoon itself. Most people had swimming costumes on – and I even spotted a couple of people in the water fully covered up. There are plenty of staff and lifeguards about and no-one is enforcing nakedness – even in the showers.
You can wander about most of the lagoon complex at will – it does get slippery so stick to the rubber mat walkways. You'll only be given a towel to dry yourself when you've finished.
Tip: remember your locker number – there are so many in the changing rooms that it's easy to get confused/lost. Lockers are big enough to hang up jackets and store everything neatly.
What's to love?
Unique experience – there's no denying it's a great experience and one you won't get to replicate in many places.
Mountainous backdrop – tying in with above, you're surrounded by some amazing scenery.
Relaxing – some people don't find it quite so relaxing, and perhaps I'm easily pleased, but I found the whole experience far less scary or strict than I thought it would be and was able to chill out more because of it.
You can take your own camera/phone in – so you can take photos until you're satisfied you've got all the shots you need.
Helpful staff – there were plenty of staff around to ask questions and they all seemed extra-friendly and smiley (although that's probably because that's the Icelandic way.)
Sense of achievement – what a way to start (or end) a trip to Iceland – an "otherworldly" experience with just enough wow-factor to impress everyone you tell when you get back.
What's to hate?
Some of the issues people have include
How commercial it is – there are loads of tourists all wanting to tick the Blue Lagoon off their to-do lists which makes it a bit of a jostle at times. It can be quite tricky to get a good photo with everyone vying for the best Instagram shots.
There are less commercial thermal spas in Iceland which people often say are a better experience but get overlooked because everyone wants to do the Blue Lagoon.
How costly it is – it can seem very expensive for a couple of hours of swimming and bathing, made worse if there are huge crowds. And there are plenty of costly add-ons if you want to go for them.
Lack of privacy and the "shower police" – some people don't want to get their bits out in front of others and it can make the changing room experience a little stressful initially.
Smell of sulphur – there's an unmistakeable "eggy smell" even as you approach the lagoon from the road. You can still smell it on your skin for a while afterwards, although it's not very strong.
Hair problems – I've read a few reports of people's hair changing colour after being in the lagoon. If you get your hair wet it does feel quite coarse instantly afterwards, although conditioner is supplied in the showers.
You can't see the bottom – even though it's not particularly deep you can't always see what you're stepping on
My verdict
I was half prepared to not like the Blue Lagoon based on others' accounts of it. But letting go of all that is the best way to enjoy it for what it is. Yes, it's expensive and touristy but things are usually like that for the simple reason that they're a great experience.
Being outside while it was snowing, and yet toasty warm and relaxed under the water, was an indescribably exhilarating experience – and something I won't forget.
The milky bright blue waters, snow-capped mountains surrounding it, hot bath-water warmth, mud mask, buzz of a free beer, naked showering, occasional underwater vibrations coming up through your body, people floating past – and even the continued threat of a nearby volcano which is due to erupt "at some point soon" all adds to the bizarrely fabulous one-off wonderment of it.
The fact that I slipped and landed on my bottom in front of loads of people when I first got in didn't even detract from it!