If you're looking for somewhere as breathtakingly beautiful as Thailand's islands and beaches but without the hordes of travellers and rapidly-increasing commercialism, then the stunningly picturesque Langkawi in Malaysia is definitely your place.
Turquoise waters, pristine powdery white-sand beaches, swaying coconut trees, intact jungle-covered hills, pretty paddy fields, refreshing waterfalls, and pleasingly affordable – this place has it all – along with some of the best sunsets you'll see anywhere. Located on Malaysia's west coast, Langkawi is an archipelago made up of 99 islands in the Andaman Sea. Only two islands are inhabited and the largest of these is Langkawi Island (Pulau Langkawi), also very close to the Thai border.
When to go: Mid-April to mid-August is often considered the best time because it's somewhere in between dry and rainy – with sunny mornings and overcast afternoons. Dry season is mid-November to mid-April. I went in early to mid-March and experienced nine days of almost pure sunshine, with just one (intense) downpour and only a couple of overcast afternoons. The heat is relentless, but I felt it was more bearable than the city.
Getting there
There aren't direct flights from the UK to Langkawi, but there's a relatively simple option to fly direct to Kuala Lumpur and catch a connecting flight from there. Malaysia Airlines and Air Asia seem to offer the most frequent and best value flights from KL, and the journey takes a little less than an hour. You could combine the trip with a stopover in Kuala Lumpur with its abundance of astonishingly inexpensive and impressive accommodation choices.
My Air Asia flight from Kuala Lumpur to Langkawi cost £25. The flight was perfectly adequate – no frills, and it got me there.
Flying into Langkawi is quite special – from the air it looks like picture perfect tropical islands with lush rainforests and hidden beaches lapped by calm seas.
On my trip it began to rain – hard – just as we were about to land, and then for the next couple of hours. Instantly soaking us to the skin, it beat down with such a force that it felt quite exhilarating. According to our taxi driver this was the first significant rainfall on the island in months…"Three months no rain. Tomorrow again…sunny, sunny, sunny." And thankfully Air Asia had been ready with umbrellas as we descended the aeroplane steps and pelted across the tarmac to the tiny airport.
Where did I stay?
Berjaya Langkawi Resort – it's in an area called Pantai Kok, on the west of the island, situated in a beautiful bay surrounded by limestone mountains and jungle. From the airport, it took around 25 minutes to get to the resort by taxi and cost only a few pounds in GBP – booked and paid for during the organised chaos of exiting the airport. As our friendly airport taxi driver proudly filled us in on all the best things to do and places to go, even through the driving rain to our hotel I could tell that this island was special. In spite of passing a few luxury resorts, it felt compact and beautifully unique.
We'd booked a 'rainforest chalet' and arrived during encroaching darkness so we only got to fully appreciate the beauty of this resort during the following day. You can read my full review of the resort here.
What did I do and see?
SkyBridge/Cable car: One of Langkawi's primary tourist attractions is its SkyBridge, a 125-metre curved pedestrian cable-stayed bridge which opened in 2005. The bridge deck is located 660 metres above sea level and affords some spectacular views over the mountainous rainforest and the sea beyond, even as far as Thailand. To reach the SkyBridge you have to get a cable car from the Oriental Village at the bottom – there are various packages on offer with entry to different places, so choose carefully. We chose to get the cable car up to the viewing platform and then walked down to the bridge itself (it would've cost more to get the SkyGlide down to the bridge). The walk back up afterwards is more strenuous, and we then ended up paying even more money to get the cable car back down to the Oriental Village again. I've heard that on really busy days the queues for this attraction can be huge so it's worth getting there early. The longest I waited was about ten minutes for the cable car itself. The pricing was all very confusing and we definitely felt as though we could've got a better deal somewhere, but it was still less than £8 each and the experience was worth it.
Note: If you choose to stay at Berjaya Langkawi, the Oriental Village and SkyBridge are just at the entrance to the Resort, about ten minutes' walk away from the main reception building.
Oriental Village: A free-to-enter open-air shopping and dining complex with a few visitor attractions, around a large lake. This place was attractive in a Disney-ish kind of way but you're not going to spend an entire day here. The Art in Paradise 3D museum was well worth seeing – it was included as part of our SkyBridge ticket entry – and gave us some of our best novel holiday photos. But the souvenir shops were the same as you'd find anywhere and it was definitely the most commercial place I encountered on Langkawi. Opening 10am to 7pm, I also found the opening hours questionable: I'm sure they're based largely around the SkyBridge hours and island tourism, but this felt like an entertainment complex which should come alive in the evening. Not knowing the hours, we went back one evening expecting it to be buzzing and it was practically shut up. We found an Indian restaurant to eat in, not realising until much later that they'd stayed open just to serve us.
Telaga Tujuh (Seven Wells Waterfalls): A series of freshwater rock pools located at the top of a huge waterfall. This is free to visit and a must-do. One of my best holiday memories, we hired bikes from our hotel at roughly £6 each for 3 hours, and cycled the 2km to the foot of the rock pools. The journey, in bright sunshine along quiet roads with rainforest either side and feeling the light breeze as we went, felt like perfection. Leaving the bikes unsecured in the tiny car park, we ascended the (many) steps with a friendly Langkawian SkyBridge tour guide who had come to relax on his break. At the top was a series of rock pools with natural rock slides, surrounded by dense rainforest and nature trails – as well as toilets and a half-bridge with a see-through floor where you could stand for some great views of the island. There was hardly anybody else about and we had a great time sliding and splashing into the pools, and going on a bit of a nature trek, surrounded by some beautiful blue-glowing dragonflies. We returned to the bikes – yes, they were still there – and cycled them along a trail lower down, to get to the base of the waterfall where we climbed into more rock pools directly underneath the flow of water.
Note: the thick jungle surrounding the waterfalls is home to families of monkeys who will happily steal your food and clothes if left unguarded. And the ascent to the car park is very steep and energy-sapping in the heat – take plenty of water, a towel and some money to spend in the tiny shops at the bottom – the coconut drink there is amazing. It might also be worth taking a toilet roll with you – the toilets don't have any (only what I referred to as "bum-showers" which aren't really adequate).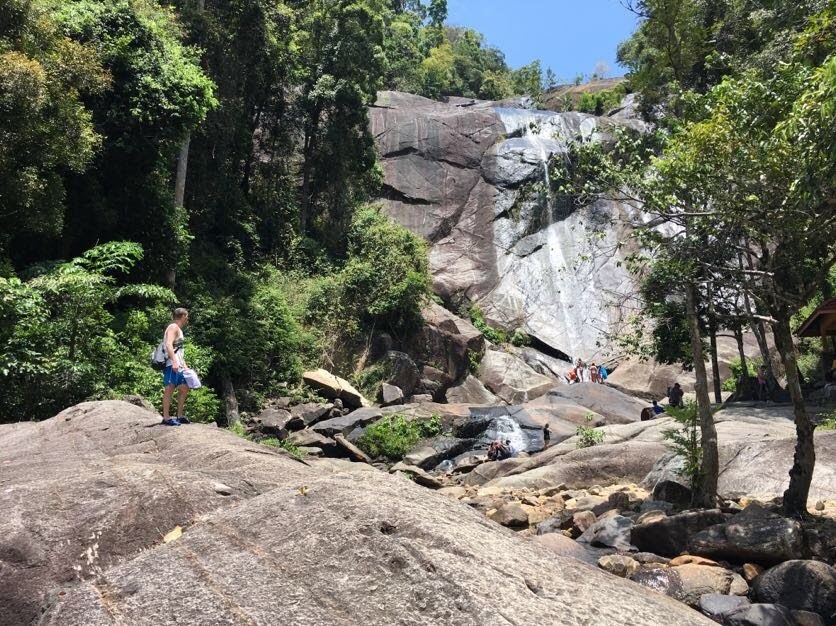 Pantai Cenang: The busiest and most developed beach on the island, but it's still really beautiful. And 'busy' here really only means there's quite a few beach bars and budget and mid-range hotels lining the sand. It's livelier than any other beaches on the island, but it retains a chilled out vibe. This is THE place to come for breathtaking evening sunsets and to sip cocktails, to absorb the relaxed beauty of it all. The major evening crowds tend to clear the beach after sunset but there's still a bit more of a party atmosphere going on, with some of the bars and restaurants offering big beach cushions and soft lighting to add that extra bit of tropical magic. The strange mix of locals, tourists and backpackers give the place a distinctly 'different' feel and this was definitely somewhere I loved visiting in the evenings because it felt somehow more alive.
Food: Cenang – we ate at a beach bar called Thirstday (even though it was a Monday ?). Very tasty, and it was here that we witnessed the incredible sunset for the first time. On our last evening we got a taxi to Pantai Tengah (right at the end of Cenang) and had a Planter's Punch cocktail in the impressive Cliff Bar over the water, perched and ready for the setting sun.
For the 18km, half hour – and only around £5 – journey back we shared a taxi with Adam, the extremely cheeky little 5 year-old taxi driver's son who proceeded to jump all over us and get up to all kinds of lively fun for the whole way. Sounds annoying, but it was actually one of our highlights and it became a recurring thing to head to the main taxi rank after a night out in Cenang to find Adam rushing towards us cheering, arms aloft for a hug and ready for more mischief.
Telaga Harbour: There's not a lot to do here but it's pleasant for a walk, to get some dinner and to marvel at some of the yachts in the harbour. There's a nice beach walk with a picturesque lighthouse at one end, and don't forget to swing on the swing seat on the beach. Watch out for the tiny, fast-moving crabs on the sand too – cute and completely harmless.
Food: I ate in a place called Tapaz, right by the water. Strangely, I had souvlaki but it was really nice and fitted perfectly with the relaxed vibe. We had a few drinks here in the warmth of the fading sunshine and there was a pleasant atmosphere as the twinkling lights came on, giving everything a slightly hazy, pleasant glow. To top it all off, the restaurant owner even insisted on giving us a free lift back to our hotel to save us calling a taxi!
Tanjung Rhu & Kilim Geoforest Park: One evening in Cenang we booked a boat trip for the next day to Kilim Geoforest Park. The cost was about £28 each, with private collection and drop-off at our hotel. Starting point was Tanjung Rhu beach, about half an hour's drive from our hotel at the north of the island. Not somewhere I'd have previously thought of visiting without the trip, the beach was jaw-droppingly beautiful and it's definitely worth going to see. It's like something from a travel calendar. We were the first people there in the morning and got plenty of photos while it was empty.
The Geoforest tour is well worth the money – it includes an informative guide and visits to a fish farm where you can feed stingrays and get splashed by shoals of aggressive tuna, as well as a bat cave, eagle-watching, lunch at a floating restaurant, and a comprehensive tour of the mangrove forests with all their animal inhabitants – including big groups of cheeky monkeys who will quite readily swim over and climb onto your boat. The tour lasts a few hours so it's also a great opportunity to befriend some of the other people in the diverse group, as well as learn about the unique environment and nature of this part of the world.
Food
Overall, the food is ok. There are plenty of restaurants lining the main street from Cenang to Tengah, often with live seafoood sitting in tanks ready to be chosen for dinner. Not for me. There's a strange mix of cultures and cuisines, probably a sign of increased tourism. I ate Malaysian, Indian, Mexican, Greek, Italian and American food during my time so there should be something to suit every taste. I'd recommend being quite discerning though – there are some incredibly cheap restaurants and roadside eateries, some of which look like they should be avoided at all costs. And, as in the case of the blissful beach sunset, sometimes it's more about the atmosphere.
Could I spend long-in-kawi?
Yes! If you hadn't already gathered, the island undoubtedly captured my heart. Although tourism is increasing, it contains all the best bits of Thailand without the same intense crowds or obvious money-grabbing tactics…yet. I'd recommend visiting, and I'd recommend visiting soon if you want to see the island at its best, and before mass tourism takes a stranglehold. I have nothing but good things to say about Langkawi and the friendliness of its people and often breathtaking sheer beauty and near-perfect beaches. It could probably do with a little 'tidying up' and 'finishing off' in parts, but some elements of this are also part of its charm – like commercialism put on hold or abandoned entirely.
As tempting as it is to lay by the pool or sunbathe on the immaculate beaches of the luxury resorts, it's a relatively small island and I'd definitely encourage visitors to explore it as much as possible. I chose to visit Langkawi on a bit of a whim, to sandwich some beach time in between Kuala Lumpur and Singapore city breaks, and I'm so glad I did. I've already vowed to return and spend longer, probably based in Pantai Cenang.
Any surprises?
Only that I liked it so much. I'd originally tried to book an Airbnb to live more like a local but found nothing suitable and I had some reservations about booking a resort. But Berjaya is lovely, and I feel that I got it right by only booking breakfast and going out to explore the island – albeit with a stunning base to return to.
Oh, and the rain – it only rained once but, wow – tropical thunderstorms are something to behold.