No, not Christmas, but Italy. And I must stop picturing it as a holiday; it's a 'working trip' ?
But after more than six months of thinking about and planning this one I can't believe we've actually reached this point. The little things have started coming together… we finally got our International Driving Permits after a previous failed attempt (still don't know whether we'll need them or not!)
The inevitable final haircut
This morning I had my hair cut. It's one of those things you always do before you go away, isn't it? As ever, I figured I'd leave my hair as long as possible before getting it cut so that I won't need to think about it while I'm away. But after two whole months since my last cut I felt so unstylish and was beginning to look practically feral! My hair is curly and only grows upwards so I've been having to try and tame it every day.
A big relief to be freshly shorn.
Washing
Every single item of clothing I might want to take has been sorted out and washed (which is almost everything I own). I've always found this part of the 'going away preparations' the least interesting… unable to know exactly what I'm going to want or need before I start packing, it's a lot of unnecessary effort.
It's made harder by going away at this time of year when winter clothes are about to be replaced by summer ones anyway. If I haven't travelled for a while I've usually forgotten what summery clothes I have or where I've hidden them all during the winter. And then there's the realisation that everything looks too old or unfashionable.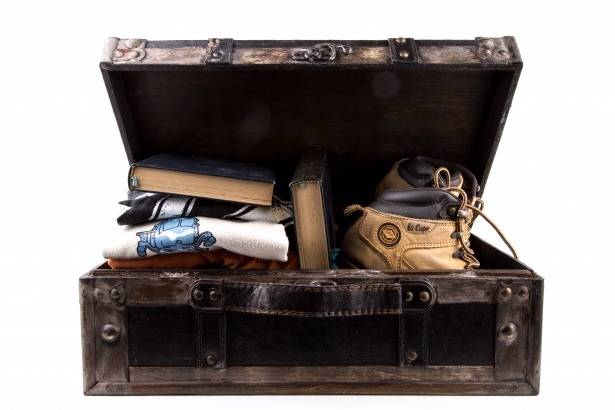 First attempt at packing
Is anyone able to pack with ease and get it right first time? Long trips are extra difficult, often with the added stress of leaving it until the last minute or risk packing something you might need.
I don't want to be rushing on the last evening so I decided to get my packing done early. Problem number one was trying to find my 'big suitcase' in the loft, even though it hasn't been long since I last used it – who'd have thought that something as big as a suitcase could be so well hidden that you'd need three attempts at searching for it?!
Anyway, suitcase finally retrieved, I spent a nice relaxed evening packing almost every item of clothing I own into it! Yep, my wardrobe was practically bare!! And there was still more I wanted to put in the case.
Perhaps I won't need 18 t-shirts for a month's trip? But the problem is that I like them all and envisage different ones on different occasions, combined with different shorts (yes, I'm very hopeful of some sunshine).
A "suitcase culling" is probably in order. That's tonight's entertainment taken care of ?
I've been checking the weather. Italy is looking warmer than the UK but there's rain forecast during the first few days. And that brings a fresh dilemma – I was initially hoping I'd only need summery clothes.
I wish we'd booked more places with washing machines. The first Airbnb has one but I'll probably perfect the "travelly and dishevelled" look after that. My Mum made me laugh: "Take fifteen pairs of pants and if all else fails, turn them inside out and wear them again." ? Thankfully it's never come to that before and I'm hoping this trip won't change that fact.
I feel for the kids: they don't have a big luggage allowance because they're flying back with…gulp…Ryanair… so they can only bring small suitcases. True, they're only coming for the first ten days but one of those kids is a teenage girl who dresses to impress, so there's been relentless dejected 'case culling' on her part. "But what about the hair straighteners?!" ?
Goodbyes
Going away for an extended period feels a little like Christmas for me. Work winds down a bit and we catch up with lots of friends and family for goodbyes. It makes the last few days before we leave relentless but really pleasant, especially when loads of the stressful bits are already out of the way.
The last couple of weeks has included quite a few dinners with friends and family, lots of cards and gifts for Easter and for Paul – it's his birthday while we're away. My sister got him a much-longed-for pasta machine ?? Now I don't need to keep hearing about how much he wants one AND I get home-made pasta. Win-win!
Paul and I discussed this familiar post-preparation, pre-holiday period today and agreed how lovely it is. Almost like an enormous, long sigh after all the planning. It's the 'Christmas Eve once everything is prepared' feeling. As much as we love travelling, we'd almost like to stay at home and keep enjoying the moment. How weird is that?!
Main photo credit: tookapic